please note that we are no longer sending out plastic cards, instead you will receive an eSnowcard along with your policy documents in PDF form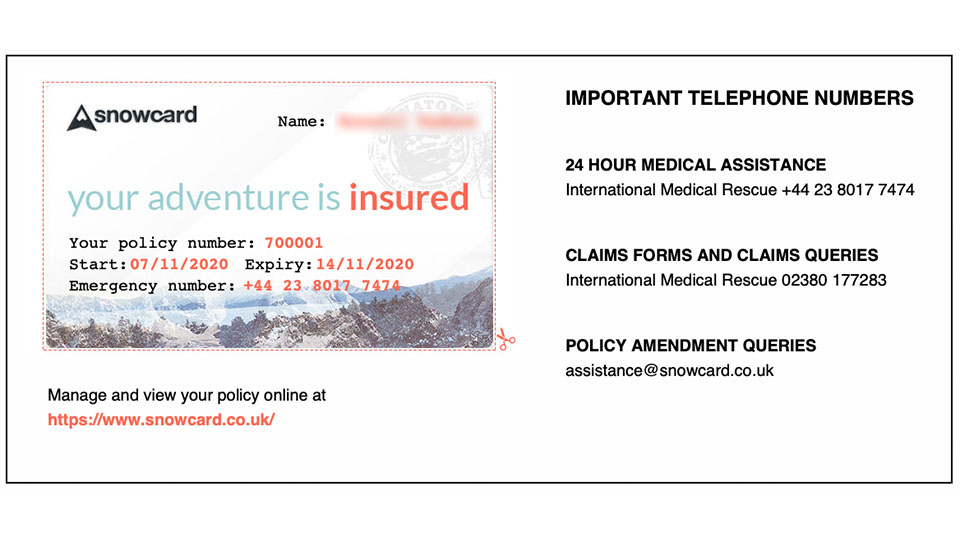 proof of insurance on ski slopes or elsewhere is no longer required and our 24 hour emergency assistance service provides necessary guarantees of payment to hospitals and rescue services throughout the world
we advise that clients place the emergency number of International Medical Rescue in your phone contacts under I.C.E. (in case of emergency)
the number is 0044 2380 177 474
some clients cut out their eSnowcard and keep it either in their wallet/purse or with their passport
why do we no longer issue plastic cards?
…for the past few years we have been monitoring the issue and use of plastic membership cards. The need to carry proof of insurance either on ski slopes or elsewhere is no longer as necessary as it used to be as hospital and rescue services do not accept membership cards as a guarantee of payment or proof that the policy or membership covers the cost of the accident. It has been normal procedure and practice for some time now that in the event of rescue or hospitalisation, the emergency services require confirmation from the insurers emergency assistance call center to cover the loss. With the advances in online technology, this is now done via telephone conversations between hospitals/emergency services and our insurers who provide immediate cover confirmation and payment guarantees without the need for a plastic card as proof of cover. Whilst the plastic card was a convenient way to carry the number, our feedback tells us that the cards are not being used enough as too many are issued and they are becoming redundant as people store important telephone numbers in the contacts list on their mobile phones. (see the note on I.C.E. listing above)
…the cost of producing plastic cards is high as printing, material and postage costs outstrip producing this service in a cost effect way. We have found that a high percentage of cards are not used and taken away on holiday or are not received before travel as clients book close to departure date and rely increasing on online delivery of all travel documents.
…as we invest in the future, plastic cards are becoming obsolete and we are investing resources in developing more streamlined and appropriate services that reflect modern digital practice.