Submitted by

harry_49544

on Mon, 2019-12-09 10:09
Rock climbing is one of the most demanding sports in terms of physicality and mental aptitude but is becoming increasingly popular with UK adventure travellers looking for new challenges. Climbing not only keeps you fit, it's a great way to get an adrenaline rush and see some awesome sights at the same time.
Climbing abroad can take you to some stunning destinations such as, Spain, Italy, and Germany; each climbing location has its own unique charm, rock formations, atmosphere and sights to see alongside the crags. Rock climbing as an umbrella term covers different aspects of the sport: bouldering, sport climbing, via ferrata, traditional (trad) climbing, big wall climbing and so on.
As a climber you may be wondering where the best places to go rock climbing in Europe are. It can be difficult to narrow down the options but we hope this blog will help you decide if they are worthy venues rock climbing. So here are our list of the best climbing destinations in Europe; at these locations you can find a variety of challenges for advanced rock climbing or some easier routes for beginners.
Sicily – Italy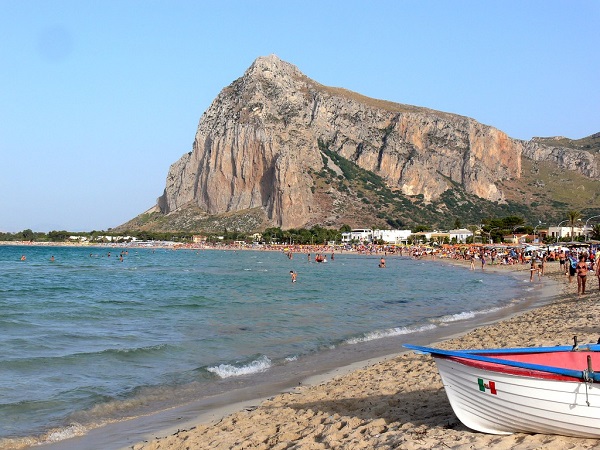 A hugely popular region of Italy, Sicily has so much to offer up for climbers looking to get a taste of the Italian life. One of the biggest islands in the Mediterranean, there is a satisfying amount of exploration and some fabulous weather. Some popular spots to visit include:
Palermo: the capital of Sicily, with its rich history presenting stunning buildings and streets, some interesting museums, and of course must have food. One of the most expansive climbing areas can be found around Palermo, all the more reason to spend some time in the capital.
Syracuse: found in the south east, this is a prime destination for lovers of history. Going far back, this has been noted as the greatest city in Ancient Greece, so it's no wonder that the main sight here is its buildings and ruins. The town itself is a UNESCO World Heritage Site, and aside from the stunning ancient aspects, its modern life offers up quality shopping and dining.
As incredible as the main tourist attractions are, the rock climbing here is the main focus. You will be more than satisfied with the wealth of areas and routes to climb in Sicily. There is something for all climbers, especially noteworthy are the coastal routes. Generally, the rock around Sicily is steep and well-formed which makes for some great challenges. Climbing is available all year round, but the ideal time is from autumn until spring, to avoid the main summer season crowds. A couple of the best places to go rock climbing around the island include:
San Vito Lo Capo: this area is a top choice, with crags such as Scogliera Di Salinella host to hundreds of climbs. Around San Vito there is very nice rock climbing for beginners, as well as the possibility to further your skills with some tricky routes, grading starts from 3a and goes up to the more challenging levels.
Palermo: as previously mentioned, this is a vast area with so much potential to soak up the coastal air whilst tackling varying climbs. Monte Pellegrino has tonnes of climbing fun, with well-structured and bolted routes. Here you will find mid-level and advanced climbing, from around grade 5a, but there is also some for newbies.
Mallorca – Spain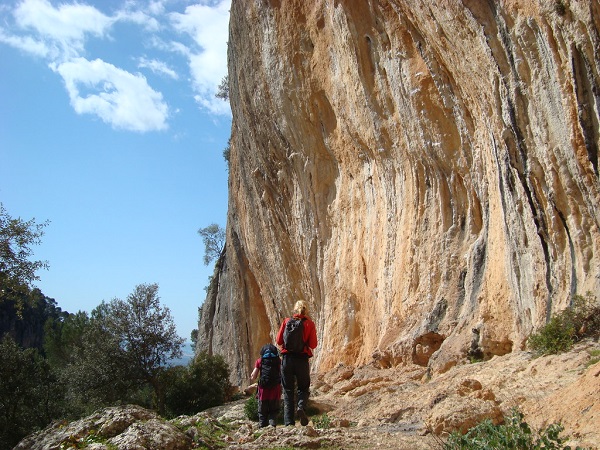 The island of Mallorca has become increasingly popular over the years, and for good reason; the appealing weather and relaxed atmosphere make up just part of the islands delights. Aside from the usual beach goers, visitors include climbers on the hunt for the new places to go rock climbing. Non-climbing spots to head to include:
Palma: the capital is home to various historic sites such as the huge gothic cathedral. You won't be short of things to do here, museums, shopping, and dining experiences for everyone. Even walking the streets will leave you content.
The beach: Mallorca is home to an array of idyllic beaches. A notable one is S'Amarador, found in the south and part of Mondrago National Park, this is a gorgeous and unspoilt beach perfect for a relaxed day by the sea.
The geography of Mallorca lends itself well to the rock-climbing scene. The sizable Mediterranean island is home to quality Spanish limestone that is cherished climbers. As far as rock climbing in Europe goes, Mallorca is a wonderful choice that can be rather unique, with key climbing areas in the north, south, and east. Due to the reliable weather, you can climb all year round. Recommended crags include:
Fraguel: located in a lush wooded area, Fraguel is a popular destination with primarily harder climbs around 7a and above, but grades go from 5c all the way to a 9. There are some tough overhangs and people talk of this being the best crag for steep climbs in Mallorca.
Sa Gubia: for some high walls and diverse climbs, head to Sa Gubia. Over 100 climbs are available here, and the limestone walls make for some fun sports climbs. This is the biggest crag you can visit in Mallorca, its height and routes unrivalled. Most grading here is around 6a and above.
Kalymnos – Greece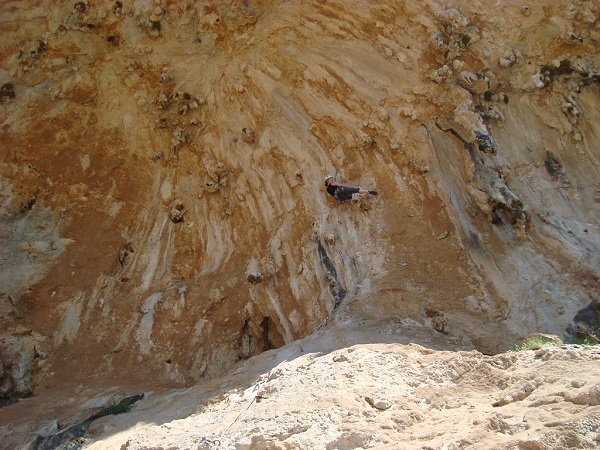 Greece makes for one of the best climbing destinations in Europe. Kalymnos is a pleasant yet relatively small hotspot. However, unlike much of Greece, the main reason for visiting Kalymnos is for its geography and climbing opportunities. If you are a social climber then you will certainly find likeminded people on a rock climbing trip. Things to do aside from climbing include:
Pothia: a trip here is necessary for anyone looking for an authentic and preserved Greek town. Pothia is the capital of the island and its here you can have a quaint experience whilst you explore the main port and attractions such as its museums.
Scuba diving: if you can fit scuba diving into your trip, the sea around the island makes for some decent dives. The clear waters will allow you to see a mix of wildlife and are ideal for beginners.
Kalymnos is at its core an island that is used for rock climbing holidays, it has a reputation for attracting all sorts of sport climbers. For the most part there are routes on coastal cliffs and caves, with a solid mix of styles to approach. It is already a great location but there has been development over the years with routes and infrastructure being added and lots of potential for it to achieve higher status as one of the top places to go rock climbing. Ideally you want to avoid going in summer due to the heat, with autumn and spring being more suited to climbing. Notable climbing locations include:
Grande Grotta: a unique crag and massively popular in Kalymnos. The formations here are something else, as well as making for some exciting climbs. Most grades here are around 7a and above, but there's enough variety for easier and more challenging routes. The cave shapes here offer an extra aspect to climbs, with most routes requiring stamina and skill.
Panorama: another popular crag, offering varied climbs with plenty of tufas across the routes. Once again a majority of grade 7's with some variations above and below and not to mention classic coastal views to be taken in once you've accomplished the climbs.
Fontainebleau – France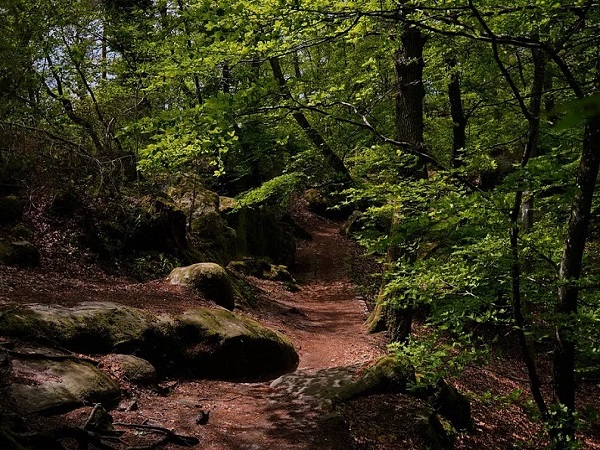 Not too far southeast of Paris is Fontainebleau, a famed location for Parisians to escape for a breath of fresh air. This is the place to satisfy your cravings for French culture and food, as well as a chance to take in some countryside. In this stylish town there are a few things to keep you entertained once you've finished climbing for the day, including a traditional market three times a week. Make sure to check out:
Château de Fontainebleau: this monumental palace is one of the grandest you can find. Home to monarchs through the ages, the stunning location is a World Heritage Site and provides an insight into the gorgeous architecture and art of France.
The town itself and local specialties: exploring the town is a great way to get a sense of everyday life here, the streets and local food charm thousands of tourists every year. The market that is set up three times each week will give you plenty chances to try out local gourmet treats.
The climbing in Fontainebleau is a treat for lovers of bouldering, many people sing its praises as one of, if not the top bouldering area in Europe. Various challenges await you in the forested area near the main town, the graded circuits are well laid out so that you know what you're getting into. The status of Fontainebleau as a leading climbing destination has been growing since climbing became a mainstream pastime in the late 1800s, and it's now more accessible than ever. One of the great aspects of this bouldering pilgrimage site is the possibility to climb all year round depending on the sort of experience you want. Recommended climb areas are:
Bas Cuvier: probably the most popular area in the region, there are heaps of climbs here. Grading goes from 1 all the way up to 8c+, any level climber will be spoilt for choice.
Rocher Canon: once again a fantastic area with hundreds of challenging routes to tackle. Quite an accessible area and well worth spending plenty of time in this forested bouldering paradise. Each circuit has enough to keep beginners and the most advanced climbers busy.
Rodellar – Spain

Spain has some of the leading places to go rock climbing in Europe and Rodellar is a great example. This top climbing location has some amazing towns nearby and is about an hour away from Huesca in the northeast of the country. Huesca is a very attractive town with some stunning scenery, traditional architecture and plenty of places of interest:
Huesca Museum: home to some breath-taking art and archaeological artefacts. Visitors here see the works of Goya as well as some intriguing historic and religious artefacts.
The Cathedral of Saint Mary (Catedral de Santa María): an impressive staple of gothic architecture and an important part of the area's history. Here you can explore the religious sites, halls and even ascend the bell tower for extensive views of the town.
Climbing opportunities at Rodellar are extensive, with a mix of caves, gorges and canyons for climbing enthusiasts of all levels to explore. If you are on the hunt for some advanced rock climbing then Rodellar is certainly one to consider; the climbs here are steep and lengthy. Make sure your trip takes place sometime in autumn, from September preferably, unless you want to risk some very hot climbs. Best places to go rock climbing here include:
Mascun: we can't talk about Rodellar without mentioning its primary climbing area Mascun. This eye-catching canyon allows you to tackle many climbs while soaking up the sun or remaining in the comfort of the shade. Stamina is needed for climbs here and the challenge level is mostly high with lots of grade 6 and above.
Gran Boveda: accessing this crag is easy and the atmosphere here is quite relaxed, but don't be fooled as this is still a very popular area with plenty to challenge you.
Frankenjura – Germany

Rock climbing in Europe can take you to all corners but many people don't realise that for incredible rock climbing Germany in the north is worth a look. Frankenjura can be found in northern Bavaria and isn't too far from Nuremberg, a benefit of this is the accessible airport and chance for trips into the city. There are also great opportunities to visit rural Bavaria. During your rock climbing holiday why not also see:
Historic locations in Nuremberg: there are a lot of historic sites to visit in Nuremberg, including the old town (Altstadt) and quite a few WWII locations if that takes your interest.
Bamberg: this town is a charming example of rural Germany, with pretty streets and areas split up by a flowing river. Bamberg is perfect for a relaxed day trying out local beer and appreciating the heritage of the town.
Frankenjura has a huge amount of crags available in its expansive area, the spring and early summer make for wonderful climbing in the forested area. Activities such as hiking and cycling also take place in the picturesque countryside but as one of the best places to go rock climbing in Europe these other activities are usually in the background.
There are around 12,000 routes for you to conquer at Frankenjura! This abundance of routes makes the location great for climbing holidays for beginners, or for those in a mixed level group. Make sure to check out:
Roter Fels: on this crag you will find a great mix of grades for intermediate and experienced climbers. This area has some of the longer climbs for Frankenjura, with some overhang routes.
Haselstaudener Wände: this is a popular wall that is suited best to beginners and those that want a more leisurely climb. There are many other similar options but Haselstaudener Wände stands out as a prime choice.
Kyparissi – Greece

Some of the best places to go rock climbing in Europe are also the most stunning, which is perfect for that moment after a climb where you look around at what you have conquered. Kyparissi is one such place. This secluded and comfortable town and its surroundings is characterised by its beauty. Found on the east coast of the Peloponnese it's not widely known, making for a quieter holiday than other options.
On your downtime from climbing, the main ways to pass the time are just to relax at the beach or wander the streets and taste local food and drink.
Kyparissi is almost exclusively a rock climbing destination although it's somewhat of a newcomer to the world of climbing. There are already lots of established routes; but there are opportunities to pioneer the terrain, more routes are being added every year and you could add to them. Don't be fooled by the slightly lower concentration of crags, this truly is a leading climbing destination in Europe. Among the crags to climb are:
Kastraki: found close to town, making access easy, is Kastraki. This is a great quality crag and popular with visitors, it has some of the easier routes in the area but is still mid-level and above. The main selling point here is the fantastic view you will get of the village and the beach, looking out over the expanse of the ocean is quite something.
Vlychada: just a little further out from Kyparissi, Vlychada is a dream of a crag and sets the bar high for rock climbing scenery. Tucked away above a secluded beach and only bolted in September 2016 it gifts some idyllic climbs. Here you can take on grades from 3b up to one 8a, all while right by the beach with their surreal clear blue waters.
Siurana – Spain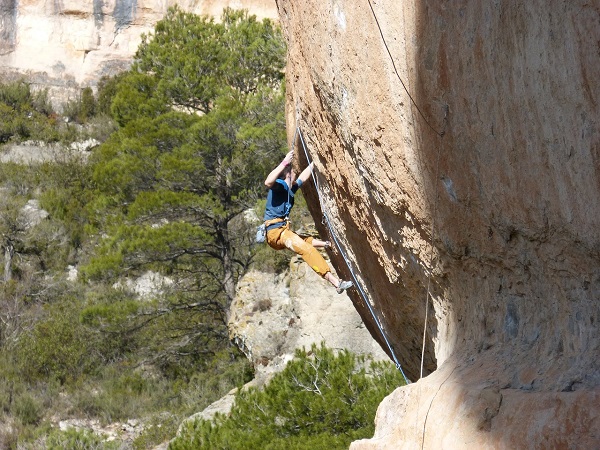 The village of Siurana has cultural and historical significance. It rests on top of a strategic hill and retains it's medieval stone architecture. This little town holds a lot of charm, as well as an array of adventure activities surrounding it, it offers the best of both worlds. Best bets for activities here:
Take a sightseeing tour round the traditional town, learn about and admire the architecture that holds the locations secrets.
Go wine tasting at one of the wineries around the area, a fine way to allow yourself a rest day from the climbing.
Siurana is at its core a gem for a rock climbing trip, the town and its surroundings are not just historic but contain unmissable climbs. Many professional climbers are attracted to Siurana, so they vouch for the technical and challenging routes. Any climber knows that the Siurana area has some of the most elite rock climbing in Europe. Luckily there are still chances for you to chill out on some more approachable climbs that are dotted about the area. While here it's worth climbing:
La Rambla: this is a famous climb that can be found on the El Pati crag, it is notoriously challenging and this makes it something worth attempting so that you can boast to other climbers. Don't expect this to be like any other climb, at a grade 9a+ it has not been completed by many, even if you don't manage to climb it it's still a sight to behold.
La Mussara: a classic area near Siurana, this is where you can find mid-level climbs to keep you busy for much of your trip. The altitude here allows for some great views over the ocean and rugged terrain around you. You may also find that this is a quieter option, a chance to get away from the crowded climbs
Gorges du Tarn – France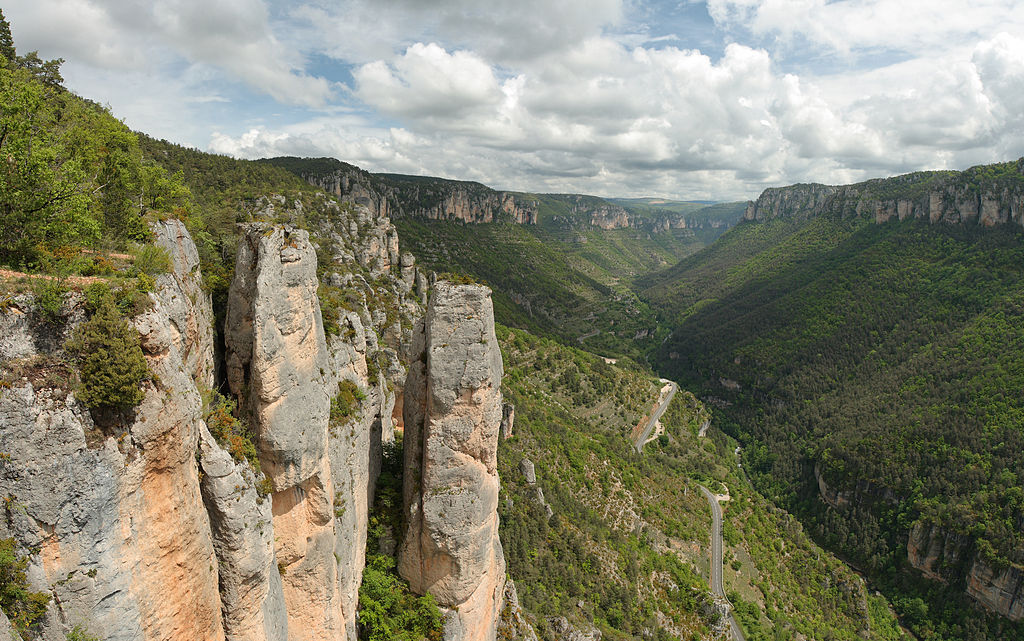 Southern France is impossible to ignore as a destination rich with superb weather and rural delights. Now more than ever it is talked about as one of the best climbing destinations in Europe, simply for the Gorges du Tarn. Here you will find yourself near Millau, with plenty of rural towns scattered around the area ready to welcome you after your climbs. Across the area you could visit:
Florac: this perfect example of a rural French town is found to the east of the Gorges du Tarn. For a well needed climbing break, its well worth coming here for a meal and chance to admire your surroundings.
Millau: best known for having the tallest bridge in the world, Millau is another stop you should make on your trip. You are sure to find some agreeable attractions here, with townhouses, botanical gardens, and museums on the table.
The River Tarn creates a canyon that is naturally by design suited for climbing; across the Massif Central there are countless chances for sporting adventures, with rock climbing leading the way. This vast area has a sitnificant quantity of climbs for each level of ability and is ideally climbed during the spring and autumn. You can find some of the finest climbing at:
Tennessee: lots of lengthy climbs to be had in Gorges du Tarn, with Tennessee providing many of these, going up to around 60 metres. Its safe to say that you will need some stamina and experience to take on the routes here, the exposed rock is perfect for advanced climbing.
Gorges de la Jonte: though not explicitly part of the Gorges du Tarn, this area is nearby and hosts some excellent traditional climbing. Lower grades and shorter climbs that are less common in Gorges du Tarn are available also and you may find it less busy than other crags.
Costa Blanca – Spain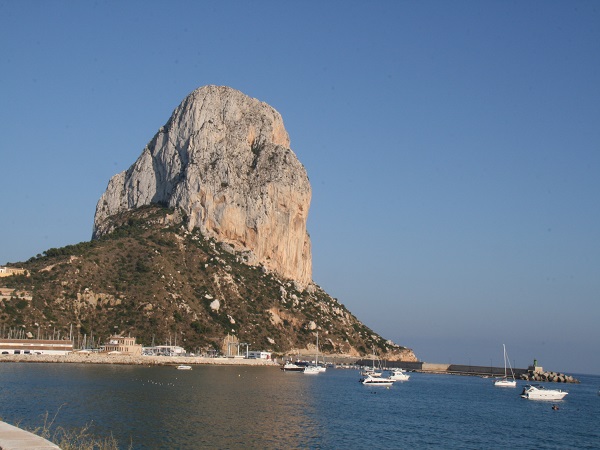 Perhaps the biggest area on our list, and a notorious holiday destination for climbers and non-climbers alike, the Costa Blanca wraps up our list of the best places to go rock climbing in Europe. This area gets incredibly busy over the summer, luckily for climbers the ideal time to go is the autumn and winter, meaning you avoid the crowds. It's hard to cover all places of interest in the region, but recommended locations include:
Alicante: a great place to stay or just pass through, Alicante has something for everyone. There's a decent nightlife, excellent food, cultural points of interest, and more. A historic attraction is Santa Bárbara Castle, with its impressive views and well-preserved structure.
Altea: it goes without saying that along the Costa Blanca the beaches are a priority for visitors. Altea is home to some fantastic coves and beaches for you to recuperate from your tough climbs. This location has a welcoming and relaxed atmosphere, with many singing the praises of the old town and its various eateries.
What makes this one of the greatest climbing destinations in Europe is the insanely large amount of climbing options available. There is something for everyone here, with its returnability being almost endless. You will find sport climbing in abundance, with quality terrain and impeccable conditions. Famed climbing options on the Costa Blanca include:
Penon de Ifalch: this impressive rock juts out over the coast, creating a sight for sore eyes and leading to some sore muscles after taking on the climbs. The majority of the routes here are mid-level and on the lengthier end of the spectrum.
Sella: ask any avid climber about Costa Blanca and they are likely to talk of Sella. This inland crag could keep you busy for a week or more, having enough variety for difficult and lower level climbs. There are some breath-taking views over the valleys and best of all this is a very accessible area, with other crags and towns not far away.
Each of these unbeatable climbing destinations in Europe have all that a climber could ask for. Just one of these locations could have you returning year after year. The beauty of this list is that not only are these the best places to go rock climbing in Europe, but they all have their own special individual appeal. If you are looking for a memorable holiday with a spot of rock climbing on the side, then all of these locations will serve you well.
When considering any top rock climbing destination in Europe, it's important to remember that this is a risky sport and you will want to be insured for accidents and emergencies. Whether you're sport climbing, deep-water soloing, bouldering or trad climbing having the right rock climbing insurance cover will leave you free to climb free of worries. Here at Snowcard we are first choice for the best rock climbing travel insurance. We have been a leading choice for rock climbers for over 30 years. Our rock climbing travel insurance covers you for a wide range of mountaineering and rock climbing activities, and can be customised to include baggage, climbing equipment, and more.
So, which of our best places to go rock climbing in Europe is your priority?
Blog image: