Submitted by

harry_49544

on Wed, 2020-01-22 10:19
Trekking has become one of the major growth outdoor activities in the past decade or so. In part this is because the cost of travel has become increasing accessible to the wider population but also, there has been a shift in attitude towards re-discovering nature, getting in touch with ourselves and understanding the benefits that exposure to the great outdoors has for our mental health. Trekking not only has significant benefits for our physical wellbeing, it is also good for the soul!
Trekking historically has been associated with some of the major worldwide destinations like the Himalayas or the Andes in South America. Charity fund raisers regularly head to Kilimanjaro, Everest Base Camp or hike the Inca Trail. However, Europe is home to some of the top trekking destinations, with a diverse range of countries offering unique opportunities. There are challenging long range routes as well as more easily accessible day treks, meaning Europe is our very own trekking haven on the door step. If you are looking to reduce your carbon footprint by flying less miles, or even avoiding flying altogether by taking the train, everything from the best multi day treks in Europe to less strenuous European hiking trails are only a few hours away. Our list of the ten best places to trek and hike in Europe will hopefully inspire and excite!
Tour du Mont Blanc – Switzerland / Italy / France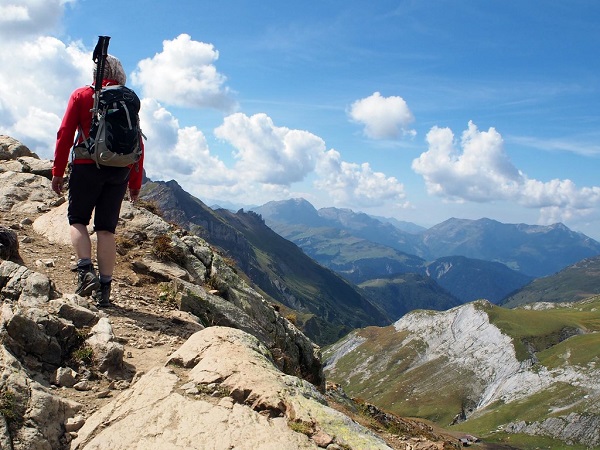 The Tour du Mont Blanc is one of the most famous multi day treks in Europe. It's certainly not a simple trek, it requires stamina and perseverance, not to mention good navigation a hill craft skills.
As a leading multi-day hike in Europe it's difficult to top the Tour du Mont Blanc. The route is around 170 km and takes you through three countries. The trek usually takes around 10 days to complete as a full circuit, most opt for an anticlockwise direction being the preferred route; allowing you to take in Alpine vistas in Switzerland, Italy, and France.
In terms of accommodation your main choices are the mountain huts situated along the way. There are also hostels and B&B's in towns you pass through, but these may be slightly pricier if you are on a budget. You can find out more and view the accommodation on the route via the Tour du Mont Blanc website.
The route around the Mont Blanc massif is a prime example of the best trekking in Europe.
Whether you employ the services of a mountain guide, or have a go self-guided, you will need to plan and prepare physically as well as mentally. You will not need any specific permits, so once you have gathered your equipment and feel prepared, head for Geneva and the gateway to the Alps!
Jungfrau – Switzerland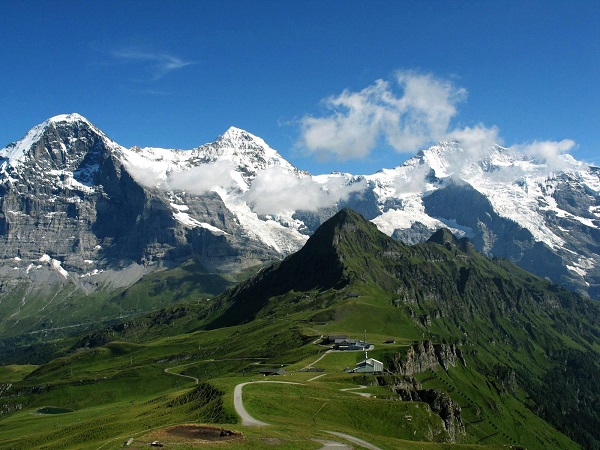 Switzerland historically is one of the greatest hiking countries in Europe, and has been a favourite of the British for many many years. Jungfrau takes the spot as one of our best places to hike in Europe, not just because it's in Switzerland, but because it epitomises Alpine freedom and natural mountain beauty.
The variety of routes to traverse allows you to take on hikes with a range of difficulties, distances, and durations. One of the prime attractions takes you close to the Jungfraujoch, an impressive 3,466 metres above sea level.
With the many hiking trails come ticket options allowing you the freedom to explore the mountains using an excellent rail system to transport you around to different trails. If you want to maximise your time here then the Jungfrau Hiking & Sledging pass is recommended, it can be valid for 2-7 days and provides access across much of the area.
For places to stay, there are options for cosy mountain huts, hostels, and even some camping options. There is an extensive list of options, as well as general information, that can be found on the Jungfrau website.
We can't talk about this spot for hiking in Europe, without mentioning the fact that it is part of the real-world inspiration for J.R.R. Tolkien's Middle Earth. Some of the hiking trails you will find yourself on were key in the formation of iconic locations such as Rivendell, perfect for any fan of the Lord of The Rings seeking immersion in their fantasy world!
Alta Via 2 – Italy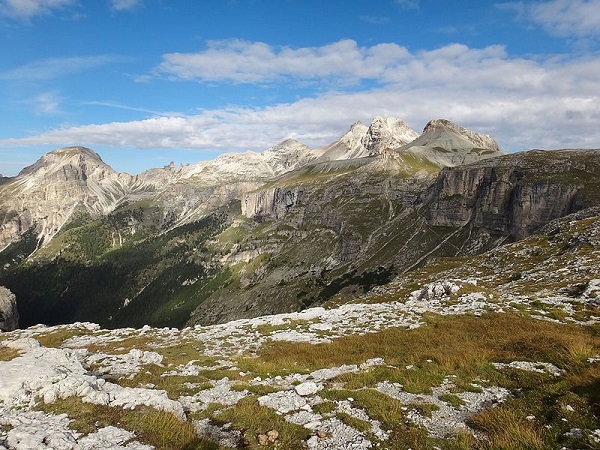 Italy, home of the Romans who walked everywhere, has some of the best trekking trails in Europe. The Dolomites alone have incredible hiking trails scattered across their dramatic peaks. This is where the Alta Via 2 comes in and is one of the top hikes in Europe, some say even the world.
Known to be more challenging than Alta Via 1, this is one of the foremost multi day hikes in Europe, lasting around 8-9 days and covering over 160 km. You will cross a multitude of terrains, experiencing natural parks, the Sella Massif, and traditional authentic Italian villages, each with their own charm.
There are countless guides available to lead treks throughout the region. Alternatively, you can take on the hike solo, but make sure you have a decent guidebook, map, and knowledge of trekking remote areas. No permits are necessary for this route.
The usual stops along the way include the 'rifugi' (mountain huts) which are among the finest in Europe. On this useful planning guide for Alta Via 2 you can find relevant information for huts and hotels.
Norwegian Fjords – Norway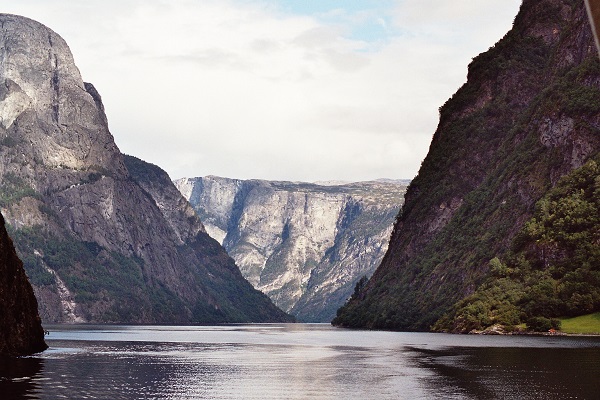 You can't talk about walking holidays in Europe without mentioning Norway. The Norwegian fjords are not to be missed. Their natural beauty and glacier formed inlets with the surrounding land create some of Europe's best treks.
The fjords are a hiker's paradise. There are many and varied routes with some of the best walks in Europe. Notable recommendations are: Skåla – an impressive mountain with panoramic views and Trolltunga – a sturdy rock formation that juts out to provide some adrenaline inducing views. All of the fjord routes will satisfy your hiking needs no matter what difficulty you are looking for.
An aspect that make the fjords one of the best hikes in Europe, is the right to roam (Allemannstretten). This traditional right in Norway means you are free to explore the countryside and set up camp for the night freely. Perfect for lovers of the outdoors way of life in search of a real connection with nature. There are, of course, extensive accommodation options that include hotels and cabins if camping isn't for you. Learn more about the right to roam and discover the range of accommodation available on your trip.
This right to roam also means you won't be needing any particular permits. Hiking without guides is relatively easy, making the fjords a great choice for beginners and those wanting easily accessible treks.
Retezat Mountains – Romania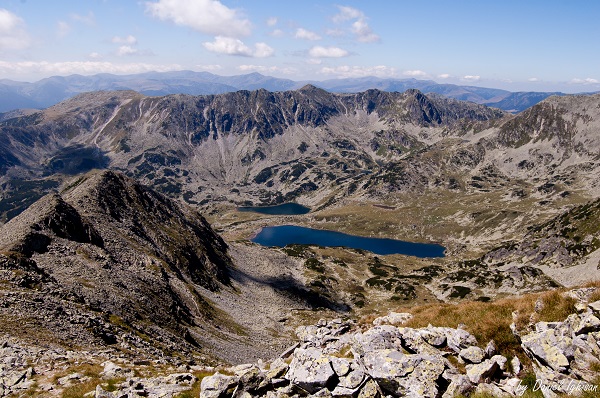 A lesser known destination for hiking in Europe, the Retezat national park and mountains are an interesting trekking proposition. A hidden gem, that is changing due to increasing popularity, this is a special place that has won the hearts of many trekking enthusiasts looking for something new.
Home to 20 peaks, with the highest standing at 2,509 metres, Romania has a flavour all of its own. This is especially so with Peleaga, the highest peak in the region and one of the most popular walks in the area. You will be rewarded with stunning views spanning this mountainous area, the rolling landscapes below and gorgeous glacial lakes.
As a well-protected UNESCO wildlife area, this is a nature lovers heaven. Keep your eyes open and you will see lynx, bears and an amazing array of birds and lesser creatures.
You will not need a permit for hiking in the Retezat area, however you will need to pay a small fee of around £2.50 to enter the national park.
The ideal places to stay are the mountain huts. You can also set up for the evening at one of the designated camping points, or if you would like to keep your hiking and accommodation separate, there are some cosy guest houses in towns nearby. TripAdvisor have a useful tool to view the places to stay in closest proximity to the mountains.
El Caminito Del Rey – Spain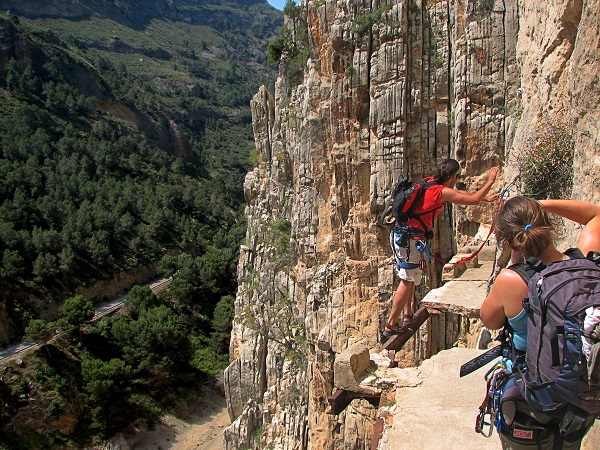 Set in the Gaitanes gorge in El Chorro (Malaga), placed an impressive 105 metres above the river below is El Caminito Del Rey. Taking on this special hike will give you spectacular views and an adrenaline rush like no other.
El Caminito Del Ray (The Kings Little Pathway) stands out as one of the best walks in Europe and is quite different from the others on our list. This is a notorious walk and is known as the world's most dangerous pathway, certainly not for the faint-hearted.
Instead of being a long and arduous hike, this route offers something different for hiking in Europe. An 8 km route of excitement and wonder through the Spanish landscape, it is easily accessible from the nearby town, but you will need to book in advance to secure your place on the walk.
Booking will cost you €10, or €11.55 if you want the return bus included, this is recommended because the hike is only one way and traversing the route once will be more than enough.
As this is only a comparatively short hike, it can easily be integrated into other holiday plans you have whilst in Spain, like cycling or sport climbing. Make sure to plan ahead because this is one of the best hikes in Europe and is popular. You can find out where is best to stay in the surrounding areas via Booking.com.
Mount Triglav – Slovenia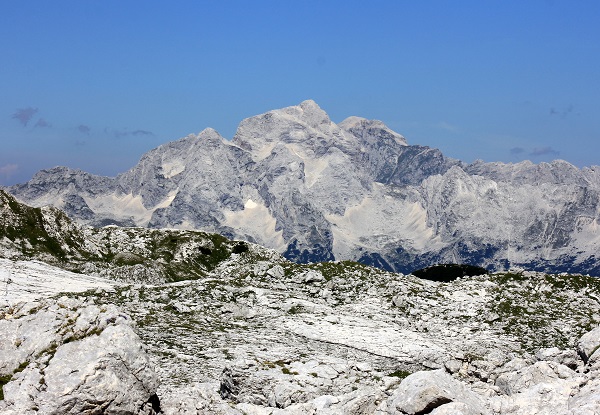 Easily accessible from the capital city of Ljubljana, Mount Triglav is one of our top mountain hikes in Europe. The awe-inspiring summit of 2,864 metres is worthy of any enthusiastic trekkers time.
As with much of the trekking in Europe, the routes here are part of a national park. The Triglav National Park is a place of natural beauty, understated but nonetheless worth a visit; perhaps one for the bucket list of the leading places to hike in Europe before you hang up your boots!
There is something for every level of hiker here, from the short and sweet, to full on multi-day hikes showing taking in the vastness of Triglav and the Julian Alps.
Unfortunately, you won't be able to pitch a tent and camp along the way, this is the only drawback for DIY trekkers. There are the usual mountain huts for longer hikes, and hotels nearby if you plan day trips to the national park alongside other activities. Visit ClimbTriglav to get more details about accommodation options.
Plitvice Lakes – Croatia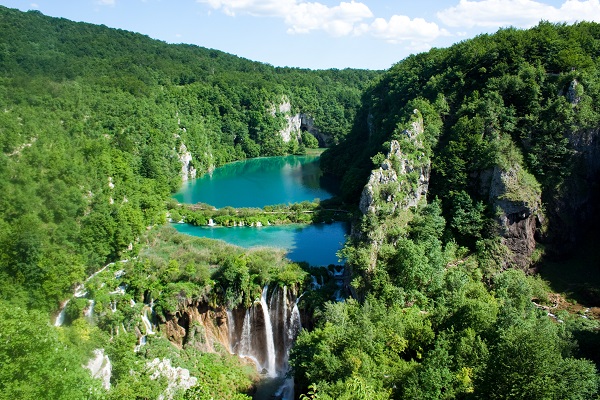 For the best walks in Europe, don't miss out on Croatia. It's a stunning country with a wealth of adventure sport opportunities and amazing places of history. The Plitvice Lakes are the prime location for excellent hiking trails that take in the natural beauty of Croatia.
The Plitvice Lakes National Park is a sought after UNESCO World Heritage Site for avid walkers, nature lovers, and visitors of all sorts. The 16 lakes spread across the 300 square km of park are separated by magical waterfalls and woodland, home to deer, wolves, boars, and plenty more. There are 8 hiking routes that will take you around this well protected area making it undeniably one of the best places to hike in Europe.
To use the hiking trails, you do need to pay an entrance fee for the national park, this varies in price depending on the time of year:
January – March / November – December = £6.50
April – June / September – October = £18
July – August = £30
These prices are estimates based on previous years, you can find the current price list on the Plitvice Lakes official website.
If you are wondering where to stay, there are plenty of options to choose from. You can find hotels and guesthouses in nearby towns, as well as a number of campsites close to the area. For a highly detailed look at the Plitvice Lakes accommodation, FrankAboutCroatia has a great guide.
Laugavegur – Iceland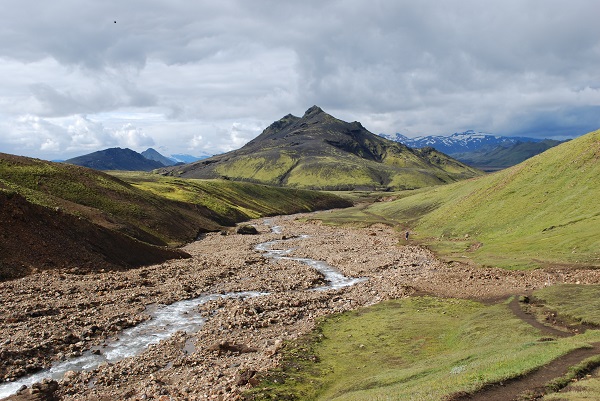 Away from mainland Europe is Iceland. The prime time for hikers to travel to Iceland is between July and September, during this time you can experience some of the best walks in Europe. Laugavegur stands out as the premier hiking route attracting walkers from all over the world.
Translated literally as 'The Hot Spring Route', this glorious hike takes you across the Icelandic landscape on a well-marked trail. Travelling the 55 km route should take around 2 – 5 days, depending on how seasoned you are or how much time you want to take in the sights.
During this trek you will see many extraordinary and colourful sights that make up the Icelandic highlands, the glaciers, hot springs, and otherworldly rock formations. You even get the chance to bathe in one of the hot springs, making this a top walk in Europe for anyone interested in the geothermal beauty of Iceland.
Its safe to say that Laugavegur is a well thought out route, and this is reinforced by the accommodation on the way. There are plenty of carefully positioned huts to spend the night, these will need to be booked in advance and you will need to bring your own sleeping bag and essentials! The cost is around 8000 – 9000kr per night, which equates to about £55. Alternatively, there is camping available around the huts, pitching a tent will be cheaper at 2000kr (£12), wild camping isn't allowed on this route. Use this guide to help plan your accommodation ahead of your trip.
High Tatras – Slovakia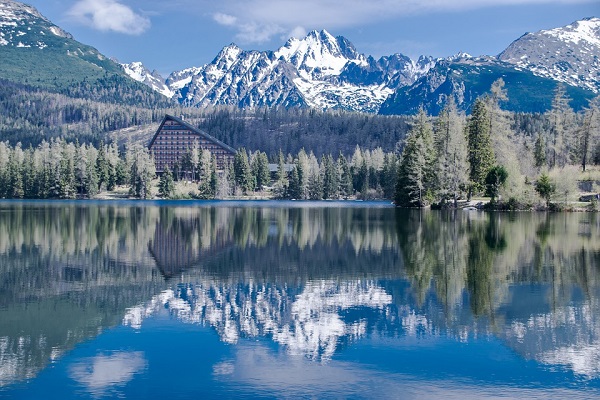 Across the 25 peaks of the High Tatras you will experience some of the best hiking in Europe. This mountain range resides in the National Park High Tatras and is partially shared with Poland. It is well respected both nationally and internationally as a unique hiker's heaven.
There are numerous routes with varying lengths and attractions. Popular routes include: Peak Koprovsky (21km, approx. 8 hours), the Loop Hike Mlynicka and Furkotska Valleys (15.9km, approx. 6:30 hours) but there is plenty more to discover!
For accommodation, there is a good choice of hotels, guest houses, cabins and cottages found in the surrounding villages and towns. You can search for accommodation on High-Tatras.Travel and Booking.com among other resources.
Hiking or trekking in Europe is one of our favourite ways to travel and enjoy the natural world and we are sure these top walks in Europe will inspire you and provide inspiration for your mind, body and soul! Happy walking.
Before embarking on your adventure, it's worth checking that you have the right insurance for the trip. With over 30 years' experience in specialist adventure travel insurance, Snowcard have you covered. Our insurance policies can be tailored for your needs and cover you for baggage, medical expenses, search and rescue, and much more. No matter what trekking and hiking you do, you can do so with the peace of mind your adventure is insured.
Blog image: